Kicker 12" L7 Subwoofer Q Class Dual 4 ohm
$329.95

$329.95

Save $170.04
---
---
DESCRIPTION
 THE NEW L7
The KICKER L7™ Subwoofer again reaches new heights in technology and design, capturing the imaginations of 2015 CES® Innovation Award judges and solidifying itself as the crown jewel among industry subwoofers. For more than a decade, KICKER's square woofer earned numerous awards including several CES accolades, and the 2015 version once again makes distinctive improvements on its way to another honor.

Kicker 12" L7 Subwoofer Specifications: 
Thiele/Small Parameters

 

41L7124

 

T/S Parameters PDF
Rated Impedance [Ω]
4
Sensitivity [1W, 1m]
86.9
Frequency Response [Hz]
20 - 100
Recommended Amplifier Power (watts RMS)
900
Outer Frame Dimension [in, cm]
12-9/16, 32
Mounting Depth [in, cm]
7-7/8, 20
Mounting Cutout [in, cm]
11-1/16, 28.1
Sealed Enclosure Specs
Minimum Sealed Volume ft3 (L)
1 (28.32)
Maximum Sealed Volume ft3 (L)
2 (56.64)
Panel Dimensions for Minimum Sealed Enclosures
using 3/4" (1.9cm) thick MDF
Box Volume [ft³, L]
1 (28.32)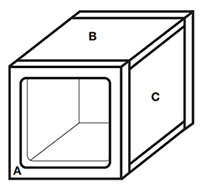 Panel A [in, cm]
13.5X13.5, 34.3X34.3
Panel B [in, cm]
13.5x12, 34.3x30.5
Panel C [in, cm]
12x12, 30.5x30.5
Vented Compact
Box Volume, ft³ (L) + port displacement
1.75 (49.6)
Port Opening Size, in x in (cm x cm)
2.5x13.25 (6.4x34)
Port Length, in (cm)
22.5 (57)
Vented SQ
Box Volume, ft³ (L) + port displacement
3.25 (92)
Port Opening Size, in x in (cm x cm)
3x13.25 (7.6x34)
Port Length, in (cm)
14.5 (37)
In this short review of Kicker L7 q-class 12 inch subwoofer, we are going to take a closer look at the new and improved L7 woofer. The flagship level square-shaped subwoofer from kicker is a bold small-box performance that has the awesome power handling and higher SPL. On a square woofer, the surround is a critical component, as there are four individual corners that must flex in unison with the four straight sections. To accomplish this, Kicker uses genuine Exxon Mobil Santoprene thermoplastic vulcanizate (TPV) surround material with a patented ribbed corner design, which varies in thickness to maintain maximum linearity, excellent cone control and high excursion capabilities. You can read all the technical specs of the Kicker Q-Class 12" subwoofer. This subwoofer is built with a heavy duty cast aluminum alloy basket. Like other products from Kicker, its focus is on musicality and reliability. And with 27.33 percent more cone area than a 12-inch round woofer, it comes with extra output too! In general the good reviews and feedback from our purchasers says it's one of the best choice of subwoofers under 350$ price tag.
*Assumes typical music program with minimal amplifier clipping; varies with enclosure size. See your KICKER dealer for details.
**Port Volume Excluded.
Due to continual development, product, and specifications are subject to change without notice. Stillwater Designs and it's agents are not responsible for typographical errors.
---
We Also Recommend
---