Kicker 15" CompQ Subwoofer Q Class Dual 4 ohm
$399.95

$399.95

Save $200
---
---
DESCRIPTION
The 15" CompQ 
The CompQ 15" Subwoofer is the pinnacle of our round speaker line, with nearly identical construction and performance as our L7 square subs.
Built for high power handling and extremely accurate bass reproduction, this KICKER sub features Ribbed Santoprene® surrounds and a BlueLace™ large-diameter progressive roll spider for extreme flexibility at any volume level.
The CompQ 15" works best with a sealed or ported enclosure with 1,100 watts of recommended power. See below for more details.

Thiele/Small Parameters

 

42CWQ152

 

T/S Parameters PDF
Rated Impedance [Ω]
2
Sensitivity [1W, 1m]
88.6
Frequency Response [Hz
18 – 100
Recommended Amplifier Power (watts RMS)
1100
Outer Frame Dimension [in, cm]
15-3/8, 39.1
Mounting Depth [in, cm]
8-15/16, 22.6
Mounting Cutout [in, cm]
13-7/8, 35.2
Sealed Enclosure Specs
Minimum Sealed Volume ft3 (L)
1.5 (42.5)
Maximum Sealed Volume ft3 (L)
6 (169.9)
Panel Dimensions for Minimum Sealed Enclosures using 3/4" (1.9cm) thick MDF
Box Volume [ft³, L]
1.5 (42.5)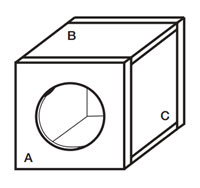 Panel A [in, cm]
16.5x16.5, 41.9x41.9
Panel B [in, cm]
16.5x11.5, 41.9x29.2
Panel C [in, cm]
15x11.5, 38.1x29.2
Vented Minimum
Box Volume, ft³ (L) + port displacement
3.0, 85
Port Opening Size, in x in (cm x cm)
2.5x16.25, 6.4x41
Port Length, in (cm)
19.5, 50
Vented Maximum
Box Volume, ft³ (L)
6.0, 170
Port Opening, in x in (cm x cm)
3.5x16.25, 8.9x41
Port Length, in (cm)
13.75, 35
*Assumes typical music program with minimal amplifier clipping; varies with enclosure size. See your KICKER dealer for details.
**Port Volume Excluded.
Due to continual developement, product, and specifications are subject to change without notice. Stillwater Designs and it's agents are not responsible for typographical errors.
---
We Also Recommend
---