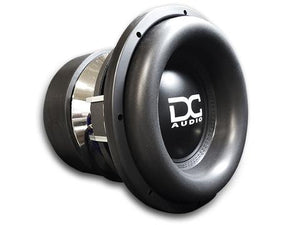 (NEW OPEN BOX) DC Audio M5 Elite Level 5 18 Inch Subwoofer DUAL 2 OHM
DESCRIPTION
Here it is, the m5 version of the Elite Lv5 subwoofer. Built for ground pounding and taking abuse in or out of the competition lanes.
When we went to the drawing board with this one we were looking to make improvements in cooling, motor force and soft parts, With the AR surround / Cone, solid pole, machined cooling vents, 10" Spiders and a 3.5" coil we accomplished all of those things and then some.
The end result is a sub that works great in the SPL lanes as well as Pounding out the LOWS!!
Key Features
• Extremely strong kraft pulp fiber reinforced cone
• Wide Long Throw foam surround
• 10" OD Spaced Spiders
• Extra heavy duty sewn tinsel lead wire
• Cast DC Series aluminum black frame 
• FEA analyzed and optimized motor assembly – Fully CNC machined
• Rubber mounting gasket
• Direct Leads
• DVC 3.5" 8 Layer Hi-temp Aluminum voice coil wound on a Black Anodized Aluminum voice coil former with high current input strips.
| | | | |
| --- | --- | --- | --- |
| Sub Size | 12" | 15" | 18" |
| Mounting Depth | 10.50" | 11.75" | 12.75" |
| Mounting Hole Diameter | 11.15" | 14.25" | 16.90" |
| Outside Driver Diameter | 12.50" | 15.70" | 18.50" |
| Motor Width | 9.84" | 9.84" | 9.84" |
| Shipping Weight | 89lbs | 95lbs | 107lbs |
| VC Diameter | 3.50" | 3.50" | 3.50" |
| Displacement | .19³ ft | .21³ ft | .26³ ft |
| Magnet Weight | 79.5lbs | 79.5lbs | 79.5lbs |
| Power Handling RMS/Peak | 3000 / 6000 | 3500 / 7000 | 3500 / 7000 |
| Impedance (Ohm) | D.7 / D1 / D1.4 / D2 | D.7 / D1 / D1.4 / D2 | D.7 / D1 / D1.4 / D2 |
| Sd | 494.00 cm² | 815.00 cm² | 1217.00 cm² |
| Vas | Coming Soon | Coming Soon | Coming Soon |
| Cms | Coming Soon | Coming Soon | Coming Soon |
| Mms | Coming Soon | Coming Soon | Coming Soon |
| Fs | Coming Soon | Coming Soon | Coming Soon |
| BL | Coming Soon | Coming Soon | Coming Soon |
| Re | Coming Soon | Coming Soon | Coming Soon |
| Le | Coming Soon | Coming Soon | Coming Soon |
| Qms | Coming Soon | Coming Soon | Coming Soon |
| Qes | Coming Soon | Coming Soon | Coming Soon |
| Qts | Coming Soon | Coming Soon | Coming Soon |
| Xmax | Coming Soon | Coming Soon | Coming Soon |
| Ref SPL @ 1 watt | Coming Soon | Coming Soon | Coming Soon |
| Suggested Sealed | N/A | N/A | N/A |
| Suggested Ported | 1.5³ ft | 3.0³ ft | 5.5³ ft |
---
We Also Recommend
---