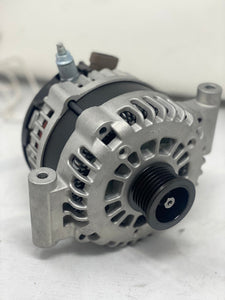 Brand X Alternators Polaris Slingshot Polaris Pro R 2.0L 240-425 Amp
DESCRIPTION
****All units are custom built alternators. Please allow 3-4 weeks for build time.****
New Polaris RZR Pro Chassis 2.0L turbo alternators (Fury Motors).
slingshot 2020 and up  
These are direct bolt on, 240-300 amps doesn't require a belt change *all higher output units than that require a 1" shorter belt from any auto parts store* 

stock amperage of 140 amps is good to around 2-2500w of added accessories. Leaving quite a bit to be desired for maximum lighting and audio applications. Especially given the output at idle is around 65 amps 😳.
looking to have the utmost output at idle *all units are 170-230 amps at idle* and charge at 14.8v standard.
You'll have the most output available for your new car / UTV and the most durability in mind with a stamped aluminum heatsink and 12x 100a diodes coming standard on all units vs the stock 6x 50 amp diodes.
Sealed brush holders are also standard on these, so don't worry about getting your unit soaked in mud or water either.
---
We Also Recommend
---