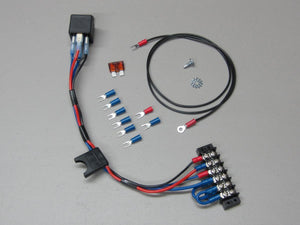 CE Auto Turn-On Relay Kit Multiple(TORK2)
DESCRIPTION
TURN-ON RELAY KITS
So you're putting together an audio system in your vehicle that will use numerous amplifiers and signal processors. No problem - our turn-on relay kits are designed to allow you to easily interface all of their turn-on circuits to your source unit. Each kit features:
The most reliable relay we know of - the venerable
Tyco/Bosch 30 Amp unit
Diode protection to prevent damaging the turn-on
output of the source unit
All hardware required to install it
Step-by-step instructions
Either kit can turn-on between five and six dozen amplifiers
and/or signal processors.
Our deluxe turn-on relay kit is designed to install near your power amplifiers. It includes:
Fused Power Lead
7.5 Amp Fuse
Self Tapping Ground Screw
#10 Internal / External Star Washer
3 foot long Ground Lead
Barrier Strip for simple connections for up to (12) power amps /processors
Crimp Style Terminals
---
We Also Recommend
---