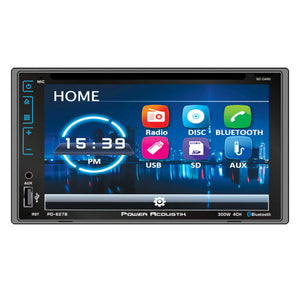 Power Acoustik PD-627B Double DIN 6.2" In-Dash DVD/CD/SD/AM/FM Receiver with Bluetooth and Capacitive Touchscreen
DESCRIPTION
Bluetooth Hands-free calling and A2DP wireless audio playback
Accepts OEM Steering Wheel Control Interfaces
Advanced FM/AM Tuner with RDBS
Playback from DVD & CD of MP3 & MP4
Playback from 64GB SD/USB of MP3 & MP4
ID3 MP3 Tag Reading for Track & Artist Information
6.2″ All Glass Capacitive Touch Screen
Multi-band Audio Equalizer w/ Presets
Front & Rear Pre-Amp Audio Outputs
Rear View Camera Input w/ Trigger
300w 4ch. MOSFET Speaker Outputs
Power Acoustik DVD drives playback traditional DVD movies, as well as MP4 and Xvid/Divx video files from DVD-R discs. CD-only products playback traditional CDs, as well as MP3 and WMA audio files from CD-R discs.
Offering 7 color combinations, the RGB feature allows the user to customize the color illumination for buttons and other faceplate accents. Match the receiver's illumination to the vehicle's interior lighting or create a color to fit any mood.
Power Acoustik multimedia source units feature built-in Bluetooth technology, allowing the safe integration of smartphones and other devices into the car audio system. A2DP and AVRCP profiles allow for wireless audio streaming from the mobile device to the car stereo. Select media players and 3rd party apps can be controlled from the receiver's touchscreen while enjoying quality sound from the car audio system. Phone calls can be accepted or rejected via the receiver's on-screen interface, using most Bluetooth enabled mobile phones. If allowed, contacts list and call logs are transferred to the receiver for easy recall.
Select multimedia source units to include an 8 or 10-band graphic equalizer. Users can tune the audio to their tastes by increasing or decreasing the level of the various frequencies. Several pre-set genre EQs are included.
Each Power Acoustik radio features a Class A/B integrated circuit audio amplifier built-in. Its 75 watts peak-power is sufficient for most factory car speakers. Sound staging options include balance, fade, and a bass & treble level adjustment.
All Power Acoustik multimedia source units feature a steering wheel remote control receiver. While select units include a dedicated single wire connection for 3rd-party interfacing modules, most have a typical 3-wire system. The 3-wire system allows manual programming of the SWC receiver directly to the vehicle, without the need for a 3rd-party interface.
A capacitive touch panel with SmartSense sophisticated sensors pinpoints your finger's location by absorbing the conductivity on the surface of your skin. The crystal-clear glass surface improves image quality, enhancing the viewing experience.
Power Acoustik receivers feature USB ports and Auxiliary (3.5mm) audio input, some on the front panel for easy connection. Playback MP3 audio and MP4 video from a USB flash drive or pass audio from external media players to the car audio system.
---
We Also Recommend
---