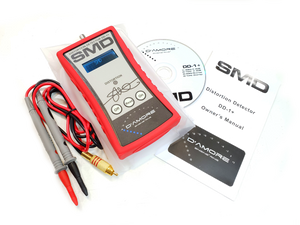 SMD Distortion Detector DD-1+
DESCRIPTION
The purpose of this tool is to enable the installer to set the gain of an audio amplifier to match the source unit's output level, accurately and quickly. It can also be useful for detecting distortion in the audio signal caused by poorly designed or malfunctioning audio equipment.
What is the difference between this and the original DD-1+?
Sets audio system gain overlap, continuously variable from 0.0dB - 15.0dB in 0.1dB steps
Checks gain overlap of an audio system without making any adjustments to the existing settings
Verifies that the gain overlap of an install hasn't been tampered with after install
Features our Patent Pending Distortion Detection system plus digital microcontroller and our proprietary firmware
200V maximum input (same as DD-1 HV)
Quasi-RMS voltmeter (can detect clipping at any frequency)
What is included?
The Distortion Detector PLUS (DD-1+)
Protective silicon rubber boot
Calibrated Test tone CD
Harness
This manual
Pride of ownership
About the Design
When you pick up the DD-1+, know that you are holding a precision piece of equipment.  If treated as such it should provide you with many years of reliable service. 
Specification
Distortion Detection trigger level > 1.0% Harmonic Distortion
Guaranteed operating range of input signal is 1.2Vrms – 200Vrms.  (40,000 Watts at 1ohm) Autoranging
Low Battery LED trigger battery voltage < 6.5Vdc
Auto-shut off timer 8 - 10 minutes after ON button is pressed
Battery self-test and display of condition when DD-1+ is initialized
Shipping Box 9 x 6 x 2 inches, 2 lbs
---
We Also Recommend
---