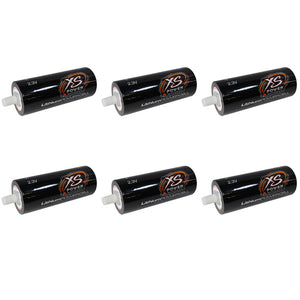 XS POWER 6 PACK KIT 35AH LITHIUM CELLS 2.3V LITHIUM TITANATE OXIDE (LTO)
DESCRIPTION
Long life cycle
Lithium Titanate Oxide (LTO)
High current charge and discharge capability
Low temperature charge and discharge performance
Bundle options with Balancers and/or Buss Bars
XS Power 6 Pack of 35 AH Lithium Battery Cells 2.3v Lithium Titanate Oxide (LTO)
This listing is for:
(6) XS Power 35 AH 2.3v Lithium Cells
Add-On Options:
(1) ILL Customz 6 Lug Style Buss Bar (XS-35AHCELL-x6-LCBUSS)
(1) Haltec 6S Balancers (XS-35AHCELL-x6-6S)
Combo Options:
(1) ILL Customz 6 Lug Style Buss Bar + (1) Haltec 6S Balancers (XS-35AHCELL-x6-LCBUSS-6S)
XS Power 35Ah LTO YinLong lithium cells are the DIY communities favorite option in the lithium battery market today. These 2.3v 35ah lithium titanate cylindrical (LTO) cells can be grouped in a pack of 6 utilizing Buss Bars to work perfectly with any car audio system charging under 16.2v.
Specifications:
Charging Voltage – 2.3-2.7V
Cell Type – Lithium Titanate Cylindrical (LTO)
Balancer features/Specifications:
Working voltage: 1.8V-4.5V
Suitable for ternary lithium, lithium iron phosphate, lithium titanate.
The whole battery participates in the active equalization of energy transfer at the same time
0.1V differential voltage 1A equalizing current. The differential voltage is bigger than equalizing current is bigger. The maximum allowable working current is 5.5A
Working principle, the capacitor fit transfers the charge mover, the equalization board is connected to the battery, and the equalization is started. The original new ultra-low internal resistance MOS, 2OZ copper thickness PCB
Equilibrium current 0-5.5A, the more balanced the battery, the smaller the current, with manual sleep switch, sleep current mode is less than 0.1mA, the balance voltage accuracy is within 5mv!
The quiescent current is about 12 mA. It is recommended that the battery capacity is 60-300AH.
With under-voltage sleep protection, the voltage will stop automatically when the voltage is lower than 3.0V, and the standby power consumption is less than 0.1mA.
---
We Also Recommend
---